Welcome to Avis
Flughafen Frankfurt
Terminal 1+2 Hugo Eckner Ring
Frankfurt
60549

Opening Times
Monday

06:00 - 23:00

Tuesday

06:00 - 23:00

Wednesday

06:00 - 23:00

Thursday

06:00 - 23:00

Friday

06:00 - 23:00

Saturday

06:00 - 23:00

Sunday

06:00 - 23:00
24-hour drop-off

Rent a car at Frankfurt Airport with confidence. Full, fee-free cancellation guaranteed
Pick up your car rental from Frankfurt Airport quickly and easily. Frankfurt Airport is a major international airport and is by far the busiest airport by passenger traffic in Germany.

Frankfurt itself is a short drive from the airport. The roads are easy to navigate for tourists and the city is home to many amazing sights such as Goethe House Museum the Altstadt (Old Town) and the Römerberg – a square that hosts an annual Christmas market.

From there, explore the surrounding German areas in the comfort of your own hire car.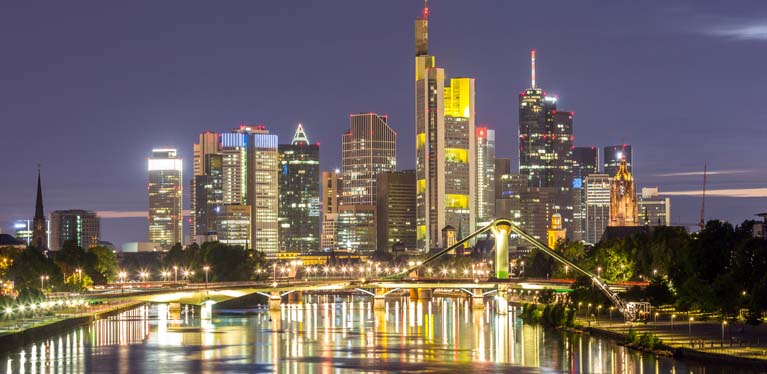 Top car hire locations around Frankfurt Airport
Discover cars to rent at Frankfurt Airport
What kind of vehicle do you need? A large SUV for a big family? An eco-friendly compact car to zip around the city? Whatever you're looking for, Avis car hire at Frankfurt Airport will have you covered. Our vehicles offer practicality, performance and comfort, so you can enjoy your trip as much as possible. Get in touch for more information about the exact models that are available.
Plan your journey from Frankfurt Airport
After you've collected your Avis hire car, it will take you 20 minutes from Frankfurt Rhein-Main Airport to drive to central Frankfurt. Frankfurt is known as the most international city in Germany and is a large financial hub, with one of the world's largest stock exchanges.

Frankfurt has an impressive skyline. The observation deck of the Main Tower, standing at 200 metres high, is the best place to view the city. Another grand building is the cathedral, the Kaiserdom, with its Gothic Tower It's unusually built of red sandstone and was rebuilt after a fire all but destroyed it in 1867, and again after WW2.

The Naturkundemuseum Senckenberg (Natural History Museum) has an astounding collection of fossils, interesting and rare exhibits and Europe's only complete diplodocus dinosaur remains.
Top tips for driving in Frankfurt
Which side of the road?
In Germany, please drive on the right side of the road.

Country driving laws
Mobile phones may only be used with a headset or hands-free device
Be aware that on unrestricted motorways (autobahns) you can still get a speeding ticket for driving too fast for the prevailing traffic or weather conditions
In cities, if you see a blue sign with white car, children and bike symbols on it, you must drive at walking speed
At crossroads or junctions in urban areas, you have the right of way if there is a road sign with a yellow diamond at the intersection. A white triangle with a red border indicates you must wait for the oncoming traffic to clear
A number of German cities have low emission zones that require you to have a special permit to drive through them
If you're caught committing a driving offence, the police can issue an on-the-spot fine

Speed limits
All speed signs will be in km/h.

For a standard Avis rental vehicle with no trailers:
Urban areas: 50 km/h (30 mph)
Motorways (autobahns): None unless shown. 130 km/h (80 mph) is the suggested maximum
Rural areas: 100 km/h (62 mph)
Unless indicated by road signs.

Child safety / Seatbelt laws
It is compulsory for the driver and all passengers to wear a seatbelt
Children aged under 12 and less than 150 cm tall must be seated in an appropriate child restraint for their size
Please note - It is the child's parent/guardian or vehicle renter's responsibility to fit the child seat.

This road rules information is for provided for general guidance only. We endeavour to keep the information up to date and accurate, but any reliance you place on this information is at your own risk.

Beyond Frankfurt with your hire car
Why not drive the 'German Romantic Road' route starting in Frankfurt and experience fairy-tale castles, picturesque towns and stunning countryside? The great thing about renting an Avis hire car is that you can stop off along the way at your leisure.

Würzburg
Known as 'the Pearl of the Romantic road' due to its beautiful buildings and location. Visit The Residence, a UNESCO World Heritage site and the former home of the Prince Bishops, one of the grandest palaces in Europe. The mirrored hall is particularly stunning, as are the elaborately decorated state rooms. Baroque in style, it is surrounded by beautiful landscaped gardens. Würzburg is also home to one of the oldest churches in Germany and the Fortress Marienberg, which looms over the city.

Rothenburg-ob-der-Tauber
Rothenburg-ob-der-Tauber (the red castle on the Tauber) is a picturesque and quaint medieval town, where you'll find narrow streets, turrets, fountains and towers. Walk along the city walls and climb to the top of the town hall for stunning views. There are a number of museums to enjoy including the Christmas museum, the Doll and Toy museum and the Medieval Criminal museum.

Nördlingen
An interesting town, which sits within a crater left by a meteorite. Nördlingen is very well preserved with its outer wall is very much intact, its one of the few remaining medieval towns in Germany. There are some interesting museums to check out including the Town Wall Museum and the Bavarian Railway Museum.

Neuschwanstein is a castle that resembles a fairy-tale castle and is said to have inspired Walt Disney and Wagner. The Hohenschwangau is another castle, located across the valley from Neuschwanstein and the childhood residence of King Ludwig II of Bavaria. These are the some of the most visited castles in Europe.
Why choose Avis for your Frankfurt Airport car hire?
Fully flexible
Enjoy fee-free flexible booking with full cash refunds and no vouchers.

Savings on coverage
When you choose Avis Inclusive you can experience total peace of mind with no extras or surprises. Pay one upfront price for free Roadside Assistance Plus and 25% discount on comprehensive zero-excess cover.

Loyalty benefits
Join our free loyalty programme Avis Preferred, and benefit from priority service, discounts and more.
Safety first
From our well-maintained fleet to protecting your data, we take safety seriously. That's why we've partnered with Dettol® to ensure both hygienic rental locations and thoroughly cleaned vehicles.

Faster collection
Save time at the counter by registering your details in advance with our simple and free QuickPass. You could be on the road sooner than you think.

VIP treatment
Get priority counter service on collection with Avis Preferred. At our larger locations you can use our Avis app to go straight to your car where the keys will be waiting for you.
Frankfurt Airport car rental FAQs
Can I return a rental car to the airport?
If you've rented a car from a different Avis hub but wish to return it at Frankfurt Airport, then you must arrange your return prior to the commencement of your rental agreement. If you return your car to Frankfurt Airport without specifying in your rental contract, a fee will apply.
Do I need winter tyres to drive in Germany?
Yes. As of 2010, it is a legal requirement for all passenger cars in Germany to be equipped with winter tyres, regardless of season. All cars in our German rental hubs have winter tyres to comply with this legislation.
What are the driving rules in Frankfurt?
The road rules in Frankfurt are the same for the whole of Germany. It's a good idea to familiarise yourself with the country's driving rules before your trip. For more information about driving in Germany, check out the complete Road Rules guide.