Welcome to Avis
Aeroporto Falcone E Borsellino
Localita Punta Raisi
Cinisi Palermo
90145

Opening Times
Monday

08:00 - 23:59

Tuesday

08:00 - 23:59

Wednesday

08:00 - 23:59

Thursday

08:00 - 23:59

Friday

08:00 - 23:59

Saturday

08:00 - 23:59

Sunday

08:00 - 23:59
24-hour drop-off

Rent a car at Palermo Airport with confidence. Full, fee-free cancellation guaranteed
With its coast-hugging roads, rugged inlets and charming fishing villages, hiring a car and breezing across Italy's largest island makes for some very pleasurable driving.
Our Palermo Airport car hire services can be easily located in the passenger arrivals hall, as soon as you touch down in Sicily's sun-drenched capital. Formally known as Falcone Borsellino Airport, it is the main international gateway to the island's lively towns, golden-grained beaches and the historic monuments inland. Seeking to enjoy the charismatic charms of Palermo before diving into the rest of the island? We have a branch in the city centre, too.
Our Palermo Airport car hire rental desk operates between 7.30am and 11.59pm. If you wish to collect your car outside of these times, please let us know ahead of time and we will arrange it for you.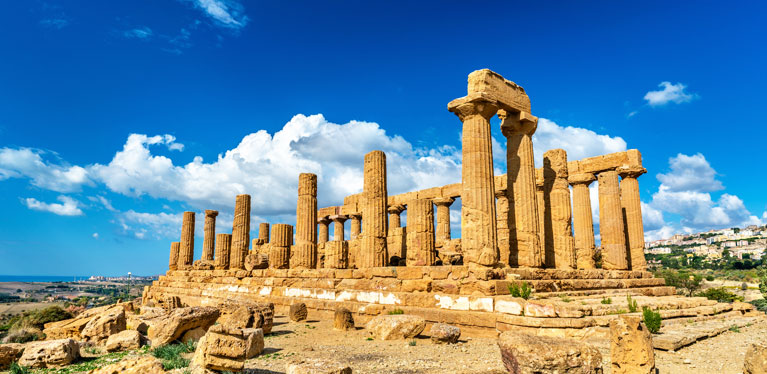 Top car hire locations around Sicily Palermo Airport
Discover cars to rent at Palermo Airport
Whatever the purpose of your visit or the size of your group, Palermo Airport car hire from Avis will have the right vehicle for you. We've got practicality, performance and comfort all covered, so you can enjoy your car as much as possible. We can provide anything from a compact city car to a 7-seater family SUV – get in touch for more information about the exact models that are available.
Plan your journey from Palermo Airport
From Palermo Punta Raisi, head east along the E90 and you'll arrive at Palermo within just 40 minutes. Start by wandering down Via Vittorio Emanuele – one of the city's main streets, packed with restaurants, cafes and shops. Find the Palazzo dei Normanni filled with colourful mosaics in the heart of the city. Much of the architecture here is Byzantine and most of the churches have been built in this style.
Springing to life as a Phoenician merchant's colony in 734 BC and evolving into a prosperous trading post in the centuries that followed, the vibrant city curls prettily around a natural harbour. Its prime geography rendered it an attractive acquisition for Roman conquest, and by the end of the Punic Wars, it was ruled by ancient Rome.
The city is revered for its eclectic mix of Norman, Arab and Byzantine architecture, where the grandiose Palermo Cathedral's jigsaw of architectural styles rubs shoulders with the imposing Palazzo dei Normanni—one of Europe's oldest royal residences. The Capuchin Monastery Catacombs are certainly a fascinating, if not macabre, visit. Follow it with a breath of fresh air in Palermo's expertly maintained botanical gardens, the Orto Botanico di Palermo.
The Regional Archaeological Museum is a great place to learn about Palermo from the pre-historic era to the present. The Catacombs of the Cappuccini are also fascinating. For an art fix, the Modern Art Gallery features current artists, while the Palermo Cathedral offers works from eras gone by. See the Palazzo dei Normanni or the stunning Capella Palatina.

Those in search of some retail therapy should head to the Vucciria Market and the Borgo Vecchio. These are the best places to snatch a bargain. Everything from street food to antiques can be found here. There are also many boutique zones.

With your Avis car rental, Palermo and the rest of Sicily is just a short road trip away.
Top tips for driving in Palermo
In Italy, please drive on the right side of the road.
Unique Country Driving Laws
Do not use horn in a built up area unless in danger.
Mobile phones may only be used with a headset or hands-free device.
There are historical areas in which you cannot drive. Lookout for "Zona traffico limitato".
Speed Limits
For a standard Avis rental vehicle with no trailers:
Urban areas: 31 mph (50 km/h)
Dual Carriageways: 68 mph (110 km/h)
Rural areas: 55 mph (90 km/h)
Motorways: 80 mph (130 km/h)
Unless indicated by road signs.
Child Safety / Seatbelt Laws
It is compulsory for all inside the vehicle to wear a seatbelt. Children under 3 or measuring less than 150 cm must be seated in an appropriate child restraint for their size.
Please note - It is the child's parent/guardian or vehicle renter's responsibility to fit the child seat.
Beyond Palermo with your hire car
Drive beyond Palermo to experience more of this breathtaking island. Boasting a stunning coastline dotted with lively towns, a road trip across Sicily is guaranteed to be memorable. Quite simply, this is the drivers' dream.

Cefalu
Cefalu is where visitors and Italians go to bask on the beach. Head east from Palermo and you'll arrive in this quaint fishing village-turned-beach town in just an hour. This is one of the most beautiful seaside resorts in the region. Spend time soaking up the sun on the beachfront, or work your way through the town's many cafes.

Scopello
Scopello is a just 55-minute drive from Palermo via the A29. This tiny hamlet on the island's north coast is one of the best areas to witness Sicily's dramatic, rocky coastline. Be sure to visit the historic Scopello Baglio, with its large courtyard and shaded cafe tables. Most travellers come here for the Tonnara di Scopello – a scenic cove tucked away at the bottom of the cliffs.

Erice
Take the E90 and E933/A29 from Palermo to Erice. During the 90-minute drive, you'll be treated to scenes of salt marshes and windmills. Founded by the Elymians and settled by the Phoenicians, the historic town's Phoenician walls and castle still remain. Stop at one of the pastry shops in the medieval part of town and try some marzipan sweets – one of the area's delicious local specialties.

Discover Sicily with your Avis hire car. From Palermo Punta Raisi Airport, all you have to do is collect the keys to your rental and take to the road.
Why choose Avis for your Palermo Airport car hire?
Fully flexible
Enjoy fee-free flexible booking with full cash refunds and no vouchers.

Savings on coverage
When you choose Avis Inclusive you can experience total peace of mind with no extras or surprises. Pay one upfront price for free Roadside Assistance Plus and 25% discount on comprehensive zero-excess cover.

Loyalty benefits
Join our free loyalty programme Avis Preferred, and benefit from priority service, discounts and more.
Safety first
From our well-maintained fleet to protecting your data, we take safety seriously. That's why we've partnered with Dettol® to ensure both hygienic rental locations and thoroughly cleaned vehicles.

Faster collection
Save time at the counter by registering your details in advance with our simple and free QuickPass. You could be on the road sooner than you think.

VIP treatment
Get priority counter service on collection with Avis Preferred. At our larger locations you can use our Avis app to go straight to your car where the keys will be waiting for you.
How long does it take from Palermo Airport to Palermo city centre?
Palermo Airport is located approximately 19 miles from Palermo city centre and takes around 35 minutes' driving time.
Is Palermo safe?
Palermo is a relatively safe city to visit and crime levels have improved, but it pays to be vigilant with your belongings in case of pickpockets.
How many days should I spend in Palermo?
In three days you can see the main historical and cultural sights of Palermo with ease, including Palermo Cathedral and the old quarter. If you have more time, you can also drive to check out the beautiful coastal town of Taormina or discover Mount Etna.
What's the best part of Palermo to stay in?
The city centre is the best area of Palermo to stay in if you want to be close to all the main attractions.
What's the weather like in Palermo?
In summer you can expect hot, sunny weather, while in winter, the climate is fairly mild with some rainy periods.