Welcome to Avis
Car Hire Pisa Galileo Galilei Airport
Hire a car from Pisa International Airport
Situated on Italy's west coast, the airport is the ideal starting point for motoring around ever-popular Tuscany. Explore the region's wealth of historic towns and cities, the array of art and culture and, of course, breathtaking countryside.

Our car hire office is just 500 metres from the airport terminal. You can reach us easily by shuttle bus, which collects you from the terminal exit on the Arrivals side. Alternatively, we're a five-minute walk away, if your luggage permits!

The airport is less than a mile from the city centre, around 50 miles from Florence and 80 miles from Siena. It has great access to other cities too. If you're heading north to Lucca, you'll need the A12 followed by the A11. The journey will take around 20 minutes. For Viareggio on the coast, it's even easier: the A12 takes you practically all the way there. To the south, Livorno is only 25 minutes away.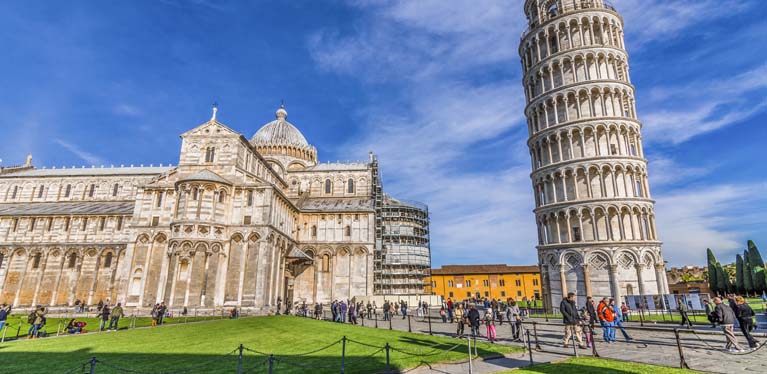 Address & Contact Details
Aeroporto Pisa Galileo Galilei, Pisa, 56121. Tel: 05042028

Opening Times
| | |
| --- | --- |
| Monday | 08:00 - 23:00 |
| Tuesday | 08:00 - 23:00 |
| Wednesday | 08:00 - 23:00 |
| Thursday | 08:00 - 23:00 |
| | |
| --- | --- |
| Friday | 08:00 - 23:00 |
| Saturday | 08:00 - 23:00 |
| Sunday | 08:00 - 23:00 |
What to do in Pisa
Pick up your Avis rental car at Pisa Galileo Airport and drive to the city of Pisa. While the leaning tower may be its most universally well-known sight, the city offers many other interesting attractions.

Start your visit by heading to Piazza dei Miracoli to have your photo taken in front of the city's signature sight—the UNESCO-protected leaning tower. Close to the tower you can also visit the Cathedral. The River Arno divides the city in two and provides a picturesque drive past Renaissance architecture. Just a half hour drive from Pisa brings you to the coast, where you can visit the lively seaside resorts of Viareggio, Porto Venere and Forte dei Marmi.

Whether you choose to spend your time exploring Pisa or the surrounding region, hire an Avis car to get the most out of your trip. Arriving and departing from different airports? Enjoy the benefits of our flexible one-way rental options where you can rent a car in Pisa Airport and return it to us elsewhere when you finish your journey.
Road trips from Pisa
From Pisa you can explore Tuscany's rich and diverse attractions from the comfort of your hire car. The region is loaded with history, culture, art and natural beauty, and hiring a car gives you the freedom to discover everything it has to offer in style. Characterised by rolling green hills and cypress tree speckled landscapes, mountains, vineyards and cultural treasures, a road trip from Pisa will take your breath away.

Situated on Italy's west coast, Pisa Airport is the ideal starting point for journeying through these spectacular landscapes. Bask in impossibly beautiful scenery at every turn as you motor between the region's wealth of historic towns and cities.

Drive one hour east to Florence where the Ponte Vecchio and some of the world's greatest artistic treasures by the likes of Leonardo de Vinci, Michelangelo and Botticelli reside. Don't miss stopping in the town of Siena and the area's magical hilltop villages, such as world-famous San Gimignano and other medieval gems including Volterra, Monteriggioni and Montepulciano.

If you are planning a road trip from Pisa, Avis is here to help. Our wide range of premium cars, people carriers and cost-efficient compact run-arounds will ensure you book the right vehicle, while picking up your hire car at Pisa Airport is a breeze, so you can spend more time focusing on your holiday.
Driving rules in Italy
Which side of the road?
In Italy, please drive on the right side of the road.

Country driving laws
Mobile phones may only be used with a hands-free device
Dipped headlights must be used in poor daylight visibility when driving on motorways, dual carriageways, and rural roads
Use the outside lane to overtake on motorways and dual carriageways
Do not use the horn in a built up area unless in danger
There are historical areas in which you cannot drive. Look out for "Zona traffico limitato"
Speed limits

All speed signs will be in km/h.
For a standard Avis rental vehicle with no trailers:
Urban roads: 50 km/h (31 mph)
Urban highways: 70 km/h (44 mph)
Secondary extra-urban roads: 90 km/h (56 mph)
Main extra-urban roads (Expressways): 110 km/h (68 mph)
Motorways: 130 km/h (80mph)
Unless indicated by road signs.
Be aware of changes to speed limits displayed on road signs due to adverse weather conditions.

Child safety / Seatbelt laws
It is compulsory for the driver and all passengers to wear a seatbelt
Children aged under 12 and less than 150cm tall must be seated in an appropriate child restraint for their size
Children weighing up to 9kg must be seated in a rear-facing child restraint, in the back of the car only
Please note - It is the child's parent / guardian or vehicle renter's responsibility to fit the child seat.
This road rules information is for provided for general guidance only. We endeavour to keep the information up to date and accurate, but any reliance you place on this information is at your own risk.