Welcome to Avis
Torino Caselle Aeroporto
Strada Aeroporto 12
Caselle Torinese
10072

Opening Times
Monday

08:30 - 23:00

Tuesday

08:30 - 23:00

Wednesday

08:30 - 23:00

Thursday

08:30 - 23:00

Friday

08:30 - 23:00

Saturday

08:30 - 21:00

Sunday

08:30 - 20:00
24-hour drop-off

Find car rental at Turin Airport
Collect your Avis car hire from Turin Airport and discover this impressive city for yourself.

Strikingly beautiful and steeped in history, Torino – more commonly known as Turin – offers a world of stunning sights.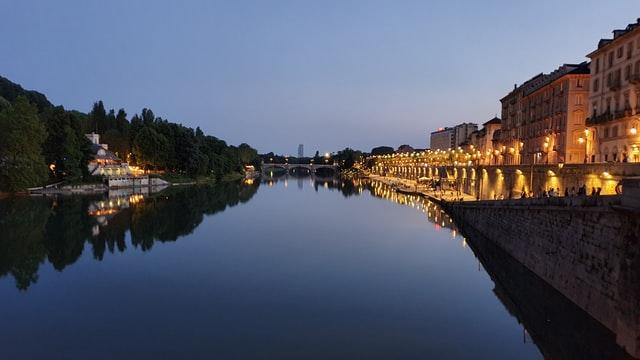 What to do in with a hire car in Turin
Once Italy's capital, the city of Turin in Italy's Piedmont region is brimming with history and attractions. Just a 20-minute drive from Torino Airport, the delights of this lively city are easy to explore with a rental car.

With lush tree-lined boulevards, upmarket boutiques and leafy parks, Turin offers an aristocratic atmosphere. The Po river flows through the city's heart and the mighty Italian Alps dominate the skyline.

Considered by many to be the European capital of Baroque due to its plethora of palaces and churches, Turin boasts plenty of cultural and historical sites. Built in 1888, the Mole Antonelliana is the city's most famous landmark. While it was intended to be a synagogue, the building never became a place of worship and is now the location of the National Museum of Cinema. The 168-metre tower offers terrific 360-degree views of the city.

The stunning Valentino park is the city's largest. Settled beside the Po river, it houses the striking Castello del Valentino and a medieval village, known as Borgo Medievale.

The buzzing Porto Palazzo market is one of the biggest and most diverse in Europe, providing a delightful mix of mouthwatering food, clothing, homeware and local crafts.

With its beauty and grandiose charm, Turin is one of Italy's top road trip destinations. Experience its splendour for yourself with an Avis hire car.
Road Trips from Turin Airport
Italy's northern Piedmont region shares borders with both France and Switzerland, housing a surplus of quaint towns and lively cities within it. From Turin, it's easy to hit the road and explore the best of this region. Just step into your car rental and drive.

Milan
A cosmopolitan metropolis with ancient roots, Milan is just an hour and a half's drive east from Turin along the A4. Italy's undisputed fashion capital, and commercial centre, Milan offers world-class shopping, a vibrant nightlife and delicious cuisine. Whether you spend a day admiring the grand gothic cathedral, known as the Duomo, or witnessing an unforgettable operatic performance at La Scala, this stylish capital city is sure to impress.

Genoa
Just a two-hour drive south of Turin, Genoa is a fantastic day-trip destination on the glittering shores of the Mediterranean sea. Italy's largest port, this is a breezy, lively city that's bursting with life. Explore its maze-like old town, which includes a striking group of 16th and 17th century palaces called the Palazzi dei Rolli.

It couldn't be easier to explore the stunning sights of northern Italy with your Avis hire car. Catch the keys and away you go.