Welcome to Avis

Rent a car in Verona
Fall in love with this delightful city at the heart of northern Italy
Our car rental desk can be found in two convenient locations in Verona, an Italian city known the world over for its artistic heritage, its architecture and its opera. Find us at Verona Villafranca Airport, as well as downtown in the south of the city.

A UNESCO World Heritage Site since 2000, Verona has played a significant role in the development of European history and culture. It was a favourite destination of Julius Caesar, and the city's Roman inheritance can still be seen in its many ancient monuments and amphitheatre. It also provided the setting for two of Shakespeare's plays, The Two Gentlemen of Verona and the epic tragedy Romeo and Juliet.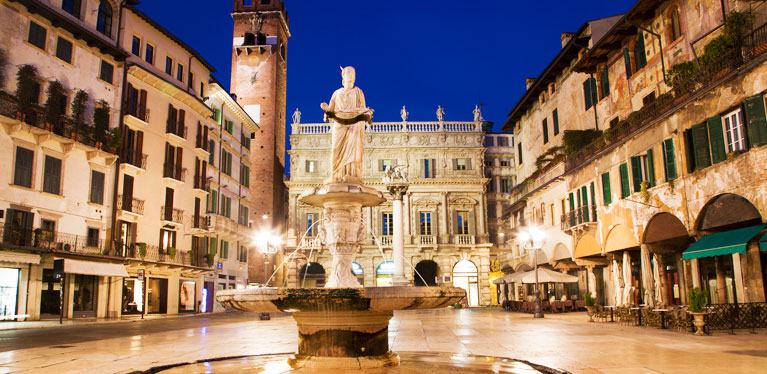 Why choose Avis for your Verona car hire?
Fully flexible
Enjoy fee-free flexible booking with full cash refunds and no vouchers.

Savings on coverage
When you choose Avis Inclusive you can experience total peace of mind with no extras or surprises. Pay one upfront price for free Roadside Assistance Plus and 25% discount on comprehensive zero-excess cover.

Loyalty benefits
Join our free loyalty programme Avis Preferred, and benefit from priority service, discounts and more.

Safety first
From our well-maintained fleet to protecting your data, we take safety seriously. That's why we've partnered with Dettol® to ensure both hygienic rental locations and thoroughly cleaned vehicles.

Faster collection
Save time at the counter by registering your details in advance with our simple and free QuickPass. You could be on the road sooner than you think.

VIP treatment
Get priority counter service on collection with Avis Preferred. At our larger locations you can use our Avis app to go straight to your car where the keys will be waiting for you.
Your top rental locations in Verona
Exploring Verona
'In fair Verona, where we lay our scene...'
Standing at the intersection of several roads on the River Adige, Verona was an important strategic settlement for the Romans, who colonised the city in the 1st century BC. In the ensuing centuries it was hotly contested by warring tribes and nations, but from the 13th century onwards, it flourished, becoming an important military base in northern Italy and an intellectual and artistic hub.

Visitors can see this heritage in Verona's many churches, such as the Romanesque Basilica of San Zeno Maggiore and the Roman amphitheatre. The amphitheatre survived a 12th-century earthquake to become the open-air opera house it's known as today, and it's open to guests year-round.

Eternalised in the writings of Goethe are the manicured gardens of Giusti, easily found across the Adige from the heart of the city. A crowning example of Renaissance-era landscaping, the gardens also contain a hedge maze. Legend holds that lovers who can find each other in the maze are destined to remain together.

Perhaps Romeo and Juliet, the star-cross'd lovers of Shakespeare's play, never found each other in the Giusti maze. Nevertheless, Verona remains synonymous with what is perhaps the most famous love story in all of literature, and the Casa di Giulietta and its celebrated balcony is a highly recommended visit.
Beyond Verona
A short drive from Verona is the unmissable Lake Garda, known for its clear blue water and the scenic towns and villages that surround it. Sirmione in the south was a popular summer resort for the ancient Romans, and it is also the site of the Scaligera Castle, which was built in the 13th century. Visitors can take a dip in the hot springs hidden at the tip of the lake, which are said to have healing properties.

It isn't far from Verona to Venice—the city of canals and islands is a mere 90-minute drive west. During the Middle Ages and the Renaissance, Venice was a commercial and maritime power, but the city is now more celebrated for its gondolas, its rococo architectural designs and the Venice Film Festival. Visitors to the city can see the mosaics and domes of the vast Basilica di San Marco or spend an afternoon in the historic Gallerie dell'Accademia, which houses paintings by Titian, Giorgione and Canaletto.

With a wealth of sights to see in historic Verona and so much more just a drive away, a visit to this picturesque city cannot be missed.