Welcome to Avis
Aeroporto Valerio Catullo
Piazzale Aeroporto 1
Caselle Di Sommaca
37069

Opening Times
Monday

08:30 - 22:30

Tuesday

08:30 - 22:30

Wednesday

08:30 - 22:30

Thursday

08:30 - 22:30

Friday

08:30 - 22:30

Saturday

08:30 - 22:30

Sunday

08:30 - 22:30
24-hour drop-off

Rent a car at Verona Airport with confidence. Full, fee-free cancellation guaranteed
From Verona Airport, it's just a 20-minute drive from the historic heart of Verona, which offers a treasure trove of important sites including roman and medieval ruins as well as ancient churches.
Avis car hire at Verona Airport is a great way to explore the city, and the northern Italian countryside, in style and comfort.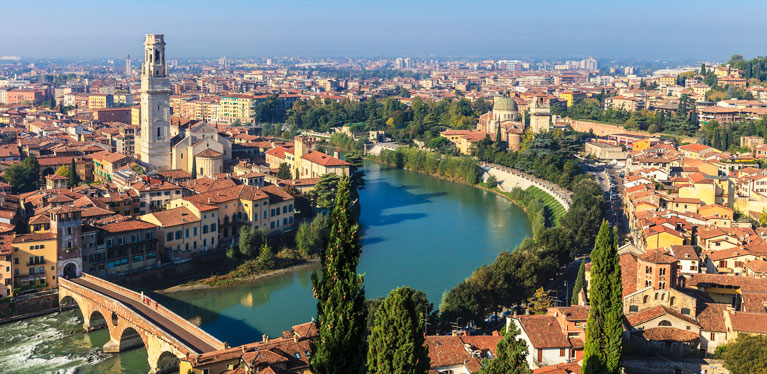 Top car hire locations around Verona Airport
Discover cars to rent at Verona Airport
You can find a hire car at Verona Airport, just head to the Avis car rental desk where professional staff can help. With the option to explore at your own pace, numerous sightseeing opportunities await you in Verona and beyond.
Plan your journey from Verona Airport
The city is popular as a romantic retreat and was used as the setting for Shakespeare's famous tale of two star-crossed lovers, 'Romeo and Juliet'. Visitors flock to the building which was the inspiration for Juliet's house, where a statue of the famous tragic heroine resides outside. Dating back to the 13th century, it's said that touching Juliet's statue brings good luck to those in search of a soul mate.

Old Verona offers a delightful mix of marble monuments, Roman antiquities and elegant churches. A trip to the Amphitheatre and Roman Bridge can be followed by a leisurely lunch in the Piazza delle Erbe; once the site of an ancient Roman forum, it's now a delightful city square with numerous cafes and bars. There's also a daytime market selling food, clothes and souvenirs.

For those travelling as a family there are plenty of child-friendly activities to enjoy; a visit to Gardaland Resort, which incorporates an amusement park and Gardaland Sea Life Aquarium, promises a fun day for all. With a host of white-knuckle rollercoasters, and everything from seahorses to sharks in the aquarium, there's plenty to keep both children and adults entertained.

The city comes to life at night with a selection of nightclubs and bars. There's also a varied entertainment programme, including operas, which are performed in the Roman open-air arena at Piazza Bra, from June to August.
Top tips for driving in Verona
In Italy, please drive on the right side of the road.
Unique Country Driving Laws
Do not use horn in a built up area unless in danger.
Mobile phones may only be used with a headset or hands-free device.
There are historical areas in which you cannot drive. Lookout for "Zona traffico limitato".
Speed Limits
For a standard Avis rental vehicle with no trailers:
Urban areas: 31 mph (50 km/h)
Dual Carriageways: 68 mph (110 km/h)
Rural areas: 55 mph (90 km/h)
Motorways: 80 mph (130 km/h)
Unless indicated by road signs.
Child Safety / Seatbelt Laws
It is compulsory for all inside the vehicle to wear a seatbelt. Children under 3 or measuring less than 150 cm must be seated in an appropriate child restraint for their size.
Please note - It is the child's parent/guardian or vehicle renter's responsibility to fit the child seat.
Beyond Verona with your hire car
Northern Italy is a stunning part of the country offering a winning combination of historic cities, rustic villages and picture-perfect countryside. With Lake Garda located between the regions of Lombardy, the Veneto and Trentino Alto-Adige, there are numerous scenic road trip options for those wishing to find a balance of city and country life.
Lake Garda
Just under an hour away from Verona Airport, via the A22 and E45, is Lake Garda. The largest lake in Italy, Garda and its surrounding villages offer a tranquil retreat for those in search of beautiful scenery, rest and relaxation. Visitors can enjoy leisurely walks along the lake or Riviera degli Olivi paths, which offer panoramic views. Combine this with medieval castles, museums and historical palaces and it's easy to see why Lake Garda is so popular.

Mantua
Once Italy's main artistic, musical and cultural hub, Mantua remains a popular retreat for those in search of history, architectural treasures and authentic Italian cuisine. Easily reached by car in 45 minutes via the SR62, a full day could be spent here in the heart of Lombardy. Top attractions include the early renaissance Basilica di Sant'Andrea and Palazzo Ducale, a sumptuous palace that was once home to the influential Gonzaga family.

Bardolino and Olive Oil Museum
Bardolino is one of Lake Garda's best known resorts and where the Olive Oil Museum is situated. The museum, in the hamlet of Cisano, opened in the 1980s and was the first of its kind in Italy. It includes exhibits explaining the different stages of oil production and a shop selling olive oil and related products. The town centre is also well worth exploring with a number of historic buildings to appreciate, including the Church of San Severo and ancient fortifications.

Explore the delights of northern Italy at your own pace by hiring your car at Verona Airport. Take a drive through this delightful region and enjoy the scenery along the way.
Why choose Avis for your Verona Airport car hire?
Fully flexible
Enjoy fee-free flexible booking with full cash refunds and no vouchers.

Savings on coverage
When you choose Avis Inclusive you can experience total peace of mind with no extras or surprises. Pay one upfront price for free Roadside Assistance Plus and 25% discount on comprehensive zero-excess cover.

Loyalty benefits
Join our free loyalty programme Avis Preferred, and benefit from priority service, discounts and more.
Safety first
From our well-maintained fleet to protecting your data, we take safety seriously. That's why we've partnered with Dettol® to ensure both hygienic rental locations and thoroughly cleaned vehicles.

Faster collection
Save time at the counter by registering your details in advance with our simple and free QuickPass. You could be on the road sooner than you think.

VIP treatment
Get priority counter service on collection with Avis Preferred. At our larger locations you can use our Avis app to go straight to your car where the keys will be waiting for you.
Verona Airport car rental FAQs
How much does it cost to hire a car in Verona?
Whether you are looking for a Verona airport hire car for business or pleasure, Avis has something to suit all needs. Choose from a wide range of cars, SUVs and vans, and benefit from the latest online deals. You'll get our best prices when booking on our website.
How far is Avis car rental at Verona Airport from the city centre?
The distance is around 12 km, so you can be in the centre of town in under 20 minutes, depending on traffic.
What is Verona known for?
Verona is commonly associated with the Shakespeare play Romeo and Juliet, which was set in the city. Tourists flock to see its rustic buildings and old-school Italian charm, with some churches dating back beyond the Medieval era.