Welcome to Avis
Road Trips With Avis: Paris
Around Paris - The beautiful Ile de France
See the best of Paris in an Avis hire car
Despite what Parisians might think, there's a whole world outside the city borders to explore in an Avis hire car. Central Paris is beautiful, but there you can easily see another side to it: the green forests where the French kings used to hunt, nearby Normandy, home to crêpes and cider and chic racing in Chantilly.

Test drive this two-day road trip for the best of the Ile de France
Pick up your vehicle from our Avis car hire location at Gare du Nord Paris if you arrive by Eurostar or at any of the Paris airports. Motor through the countryside to elegant Chantilly for a day at the races, then spend your winnings buying souvenir bottles of champagne to take home, in the cellars of Reims and the Marne Valley, within easy drive of the city.

Feeling active? Try your hand at rock-climbing in the royal forest of Fontainebleau before taking country lanes to the village of Gallardon and a meal fit for a king. Wind up your motoring holiday with a stroll around the overwhelmingly grand palace of Versailles before heading back to the airport. Drop off your hire car in Paris at any of the airports or Eurostar terminal or check other Avis car hire locations in Paris.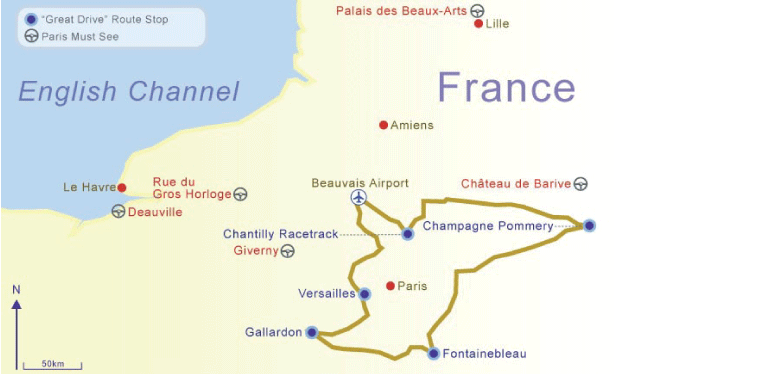 High points en route
Chantilly racetrack, Chantilly – A day at the races
In a town obsessed with horses, join the Parisian beau monde at elegant Chantilly racetrack – home of the French Derby (or Prix du Jockey Club). Try your luck at the races in the morning then spend the afternoon at the town's baroque Grand Stables and see if you can spot the champions of tomorrow.

Reims – Pop a cork
After all that exercise you deserve a break – and maybe a souvenir bottle of bubbly to take home. Reims is the champagne capital of France, and just over an hour's drive from the capital. All the major houses have their cellars here, including Pommery. Visit any day between Easter and mid-November - and then reminisce about your holiday when you get home with a toast or two.

Fontainebleau – Social climbing
A short drive through quiet country roads will lead you to rock-climbing with a difference in Fontainebleau forest, once the hunting grounds of French kings – and home to a rather splendid palace. The area is dotted with massive boulders that attract climbers young and old to this secluded spot. Hire some gear and take on the professionals.

Gallardon – French feast
Sometimes you just have to splash out. A meal at the Chateau d'Esclimont is pure luxury. The 16th-century chateau, set in a 100-acre park, boasts a menu that's a trip back to a more extravagant time – quail, lobster and game are specialities. And it's just over an hour on the
open road southwest of Paris.

Versailles – Crystal palace
Hit the road west and prepare yourself for the unashamed exuberance of the Château de Versailles, a riot of pink marble and mirrored hallways. There are plenty of places to kick back too, with more than 2000 acres of parkland, gardens, lakes and some great little bistros and restaurants – try Le Potager du Roy, five minutes walk from the chateau.

Free time on your hands? Take your pick from the following gems
1. Palais des Beaux-Arts, Lille – Art attack
It's a fun drive north to picturesque Lille. It's a city of Flemish origin, which means great frites, top Belgian beers and seafood aplenty from your café seat on Europe's largest square – the Grand' Place. Culture vultures can fill up here too – it's home to the Palais des Beaux-Arts, France's number two art gallery with works by Rembrandt, Goya and many more.

2. Deauville – Raise the stakes
When Ian Fleming introduced his new creation James Bond in Casino Royale, he chose the fabulous Belle Époque casino at Deauville as the setting. The town is still the epitome of glamour – overlooking a golden beach and packed with high rollers from all over France trying their hands at poker, roulette and baccarat.

3. Rouen – Stop the clock
Don't forget your credit card in Rouen. Though visitors come to see the giant Renaissance clock – the Gros Horloge – and huge cathedral, they stay to spend money. Lose yourself in the maze of winding shops and splash out – antiques, perfumes and earthenware are popular, but the pick of the bunch is the Auzou chocolatiers, which has made the best chocolates in France since 1634.

4. Château de Barive, Sainte-Preuve – Luxury hunt
If you want the best of both worlds then you're going to love the Château de Barive. At first sight it's simply one of those grand country hotels the French do so well, with a gourmet restaurant, 14 plush rooms and a heated indoor pool, all in a converted 19th-century hunting lodge. But among the side–trips they can arrange is parachuting in Laon ...

5. Giverny – Monet, Monet, Monet
If you find this winding drive through country lanes north-west to Giverny picture-perfect, you won't be the only one – the town was home to Monet and the inspiration for many of his most famous works. Take a wander through his Japanese garden or chill out by the famous water lilies and be part of a living work of art.



Your road trip across Paris awaits … and the open road lies ahead
With offices in over 5,000 locations across 165 countries, Avis can help with your car rental needs wherever you are in the world – and help turn a drive into an experience.

Book now to unlock the world.