Welcome to Avis
Road Trips With Avis: South of France
Languedoc-Roussillon - Land of adventure
See the southwest in style in an Avis rental car
The craggy tree-clad cliffs, gaping gorges and sun-soaked beaches of Languedoc-Roussillon are perfect for adventure sports.

Test drive this two-day road trip for the best of Languedoc-Roussillon
Pick up your rental from Avis car hire Montpellier Airport and head south on the D66 road to the breezy beaches around Le Grau-du-Roi, before nipping across to Pujaut for a birds' eye view of the patchwork Provençal countryside.

Once your pulse has settled, drive on to La Grande Combe in the foothills of the Pyrenees and make a splash in the white waters of the Gorges du Tarne, at La Malène. Finally, head down to the magnificent walled city of Carcassonne and gaze out across miles of curvaceous countryside before heading back to the airport.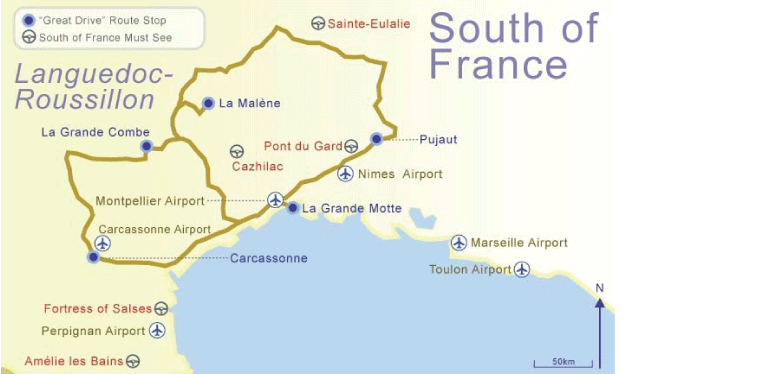 High points en route
La Grande Motte – Get on board
Miles of sandy beaches, spearmint blue seas and constant winds make this area ideal for windsurfers. Book yourself a session or sit back and work on the all-important tan. If you're in need of inspiration, head to the harbour and drool over million-pound catamarans.

Pujaut – Take to the sky
If being scared out of your mind puts a smile on your face, then a sky-diving session with Tombé du Ciel ('Fallen from the Sky') will leave you laughing your socks off. What's more, you'll even get a video to show to your mates back home.

La Malène – Paddle up
Spend the day in a canoe, cruising through the blue-green water of the Gorges du Tarn. From La Malène, head along to Pas de Soucy and negotiate your way through the notoriously tricky Les Détroits pass, with its swirling mass of boulder-strewn white water.

La Grande Combe – Saddle up
Head for the hills. Les Crinières Cevenoles at Champclauson offer horse-riding packages and accommodation in wood-shuttered gîtes. Once you've mounted your steed there's no rush to get anywhere, so stop off whenever you feel like it, take a pew on one of the huge boulders strewn beside gently flowing streams and listen to the sounds of splashing water.

Carcassonne – Wall of fame
Perched high on a rocky outcrop, this walled city is a medieval masterpiece. The winding, cobbled streets and rough-hewn stone houses formed the backdrop to Kevin Costner movie Robin Hood, Prince of Thieves – you'll have to leave the car as it's cobbled and foot only. Book yourself a room at the Hôtel de la Cité with its stained glass windows, and then take a stroll through the gorgeous garden, where you can see all the way to the Pyrenees on a clear day.

Free time on your hands? Take your pick from the following gems
1. Pont du Gard – Take it to the bridge
One of the most famous landmarks in France, this massive Roman aqueduct is over 2000 years old and took 1000 people five years to build. The result: three rows of elegant arches, 48 metres high, stretching over a quarter of a kilometre. Stand back and admire this amazing feat of ancient architecture – all built without a single machine.

2. Salses – Holding the fort
Built at the end of the 15th century, the Fortress of Salses was commissioned by King Fernando of Spain to keep the French out of then Spanish-owned Roussillon. By the time it came into service after seven years of construction, it was already outdated, despite its 15-metre-thick walls.

3. Sainte-Eulalie-en-Margeride – Holy cow
Thousands of years ago, bison were a common site on the open grasslands here, and now they're back. Take a 50-minute horse-drawn carriage ride round the 200-hectare bison reserve, near Sainte Eulalie-en-Margeride, and see these one-ton behemoths for yourself.

4. Amélie les Bains – Hot springs
Ease your aches and pains beneath rose laurels, mimosas and palm trees in Amélie les Bains. The Romans were first to discover the benefits of these natural hot springs, and 2000 years later people still flock here from all over the world. Book a room at the turreted Hotel Castel Emeraude, where you can breakfast on the balcony with a backdrop of lush green forested hills.

5. Cazilhac– Glide away
Take to the sky and float over the grassy hills of the Pyrenees. The Séranne Parapente School runs paragliding courses for everyone from beginners to advanced flyers. When the wind is gentle and the sun is shining, the sky around Cazilhac is full of multicoloured canopies.

Your road trip across Southern France awaits … and the open road lies ahead
With offices in over 5,000 locations across 165 countries, Avis can help with your car rental needs wherever you are in the world – and help turn a drive into an experience.

Book now to unlock the world.