Welcome to Avis
Road Trips With Avis: Amalfi Coast
Amalfi Coast Adventure
See the best of Italy's showcase coastline in an Avis hire car
Steering round hairpin bends and sheer cliffs on this gorgeous coastal route makes for expert driving – but gives jaw-dropping views over rugged shoreline – interrupted only by impossibly steep villages.
Test drive this two-day road trip for the best of the Amalfi Coast
Pick up your hire car from Avis Salerno, near Pontecagnano Airport and drive north along the coastal road.
You can easily explore some of Amalfi's nooks and crannies in your hire car, including legendary treasures like the artist's colony at Ravello and the ancient town of Paestum.

Drive north for Mount Vesuvius to explore the ruins of Pompeii, sample life among the beautiful people on the Isle of Capri and drop-off your Avis vehicle at our car hire Naples airport branch.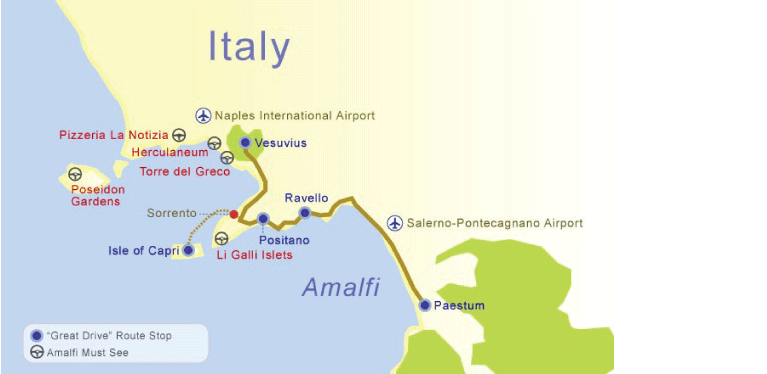 High points en route
Paestum – Majestic ruins
A half-hour drive south down the coast from Salerno is one of Italy's best-kept secrets – the ancient Greek city of Paestum. Built around 650BC, think gleaming white marble temples set against a minty blue sky, a radical change from the pastel-coloured cottages you'll see driving everywhere else. It's even more special at night, when you may even have the place to yourself.
Ravello – Inspiring great minds
Retrace the drive and continue past the airport to Ravello, etched into cliffs that cascade down to the turquoise sea, and a haven for creative movers and shakers for centuries. Its gardens inspired Wagner, and it's where DH Lawrence wrote some of Lady Chatterley's Lover. Walk down the steep mountain path to the tiny village of Minori, and get the bus back for lunch on a sun-drenched terrace. You won't want to leave.
Positano – Special seafood
Clinging by its fingernails to a rocky cliff, Positano is just a short drive further west along the glorious coastline, and serves up some of the finest seafood you'll find anywhere. Sit back with a plate of fresh shrimp that was swimming around only hours earlier.
Isle of Capri – High life
Leave the car and hop on the hydrofoil from Sorrento to this Italian Mecca of high living. Make sure you take a boat trip to the stunning Blue Grotto, and for a splash of glamour, head to the Hotel Punta Tragara where you can dive off the nearby sun deck and swim around the Faraglioni rocks.
Vesuvius – Active volcano
Once you've motored all the way up the coastline, you have to head to Vesuvius – the spectacular volcano that buried the ancient Roman city of Pompeii back in 79AD. After a 30-minute spin north from Sorrento, you'll be rewarded with achingly lovely views. Careful, though – Vesuvius is still active and smokin' ...
Free time on your hands? Take your pick from the following gems
1. La Notizia, Naples – Michelin-starred pizzeria
After a morning at the Museo di Capodimonte admiring works by Titian, Raphael and Caravaggio, you could spend hours scouting around Naples for the best pizza. Save your aching feet and make the trip to La Notizia. Run by pizza guru Enzo Coccia, this is the only pizzeria in the country with a Michelin star.

2. Poseidon Gardens – Volcanic baths
Just an hour by hydrofoil from Naples, the island of Ischia is internationally famous for its beneficial thermal springs. Book a day at Poseidon Gardens and soak your body to cure ailments, or simply relax on the lush hillside overlooking the coast.

3. Herculaneum – Roman remains
Neighbouring Pompeii, Herculaneum offers a closer look at Roman life before the eruption of Vesuvius in 79AD. Along with mosaics in situ and the spectacular women's baths, the site displays the shocking remains of two adults cradling a child.

4. Torre del Greco – Coral and cameos
The seaside resort of Torre del Greco has been a major producer of coral jewellery and cameos since the 17th century. Visit the coral museum and local factories, where you can buy examples of this ancient craft dating back to the Greek period.

5. Li Galli Islets – Mermaid's retreat
Steeped in legend, the tiny archipelago that makes up Li Galli is where sirens sang to Odysseus, who was strapped to a mast to resist temptation. It's safer these days - the azure water around Castelluccia Azzurri is part of a protected marine reserve and a favourite with divers and snorkellers. Don't forget your swimming costume.