Welcome to Avis
Key road rules in Romania you need to know
When you are hiring a car abroad, it's useful to be prepared for the different driving laws in the country you are travelling to as well as checking the documents you need to carry.
To help make your trip to as smooth as possible, we've put together some of the key road rules in Romania.
These rules are to be used as a guide and are subject to change. Please check with your Avis representative if you have any questions.
Your Avis representative can advise you on toll and road charges before leaving the Avis car hire location and whether snow tyres or chains are needed.
Take a look at our Romania location page for ideas, travelling tips and booking information.
Frequently asked questions
What side of the road do they drive on in Romania?
In Romania, they drive on the RIGHT-HAND side of the road.
What are the driving requirements in Romania?
The legal age to drive in Romania is 18. However, you must be at least 21 years old to hire a car.
Can I use my UK driving licence in Romania?
Yes. You don't need an International Driving Permit (IDP).
Are there special road rules I need to know for driving in Romania?
The maximum age for anyone hiring a car is 70 years old.
What are the laws on overtaking in Romania?
You must overtake all vehicles from the left. However, trams must be overtaken on the right.
Can you turn right on a red light in Romania?
Yes, but only if there's a small green flashing right turn arrow.
What are the rules on alcohol in Romania?
Romania has a strict no alcohol policy. Any level above 0.00% is considered a crime.
Are there any unique traffic signs I need to know in Romania?
Beginning of a built-up area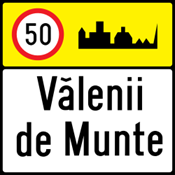 Accident warning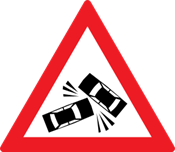 Do the same road rules in place across the whole country?
Yes.
What if I break down in Romania?
You must wear your reflective jacket and find a safe position away from the road and traffic before calling for assistance.
Does Romania have toll roads?
The motorway stamp/sticker also known as a vignette is compulsory for all vehicles to display when driving on national roads and motorways. This allows you to pay road tax or toll.
How do I pay road tolls in Romania?
You can buy an e-vignette online or physical ones can be bought at petrol stations. Failure to have a valid vignette can lead to a fine.
Unique Country Driving Laws
It is against the law to drive an excessively dirty car
Use of horn is prohibited in a built up area unless in immediate danger
You may not use a mobile phone while driving unless you use a hands-free set. Failure to comply can result in a fine
The use of low beam is compulsory during daytime too, on highways, express roads and national - european roads (E)
Please park on the right side of the road
Speed Limits
For a standard rental vehicle with no trailers:

Urban areas: 31mph (50 km/h)
Highways: 80mph (130 km/h)
Express Roads or National - European Roads: 62mph (100 km/h)
Other types of roads: 55mph (90 km/h)

Each time the maximum speed limit changes, for a certain segment of the public road, it is properly marked through traffic signs.
Child Safety / Seatbelt Laws
It is compulsory for all inside the vehicle to wear a seatbelt

Children under 3 must travel in a child safety seat
Children under 12 cannot travel as a front seat passenger

Please note - It is the child's parent / guardian or vehicle renter's responsibility to fit the child seat.

Compulsory Equipment in your Avis rental car
First-Aid Kit
Fire Extinguisher
Warning Triangle
Emergency Services
Police

112

Ambulance

112

Fire Department

112

European Emergency Number

112
Other Countries Road Rules