Welcome to Avis
Bologna Apt Borgo Panigale
Via Triumvirato 84
Bologna
40132

Opening Times
Monday

08:00 - 23:59

Tuesday

08:00 - 23:59

Wednesday

08:00 - 23:59

Thursday

08:00 - 23:59

Friday

08:00 - 23:59

Saturday

08:00 - 23:59

Sunday

08:00 - 23:59
24-hour drop-off

Book your car rental at Bologna Airport
Italy is one of the world's most beautiful countries, while it's a commonly held belief that Bologna is one of its most attractive cities. There you have it: the recipe for road trip heaven.

Explore the intriguing city of Bologna and the stunning surrounds of central Italy at your leisure. Simply reserve your rental car at Bologna Guglielmo Marconi Airport and away you go.
The Avis car hire desk is on the ground floor of the terminal at Bologna Guglielmo Marconi Airport, and our rental cars are parked at car park P3 on the ground floor.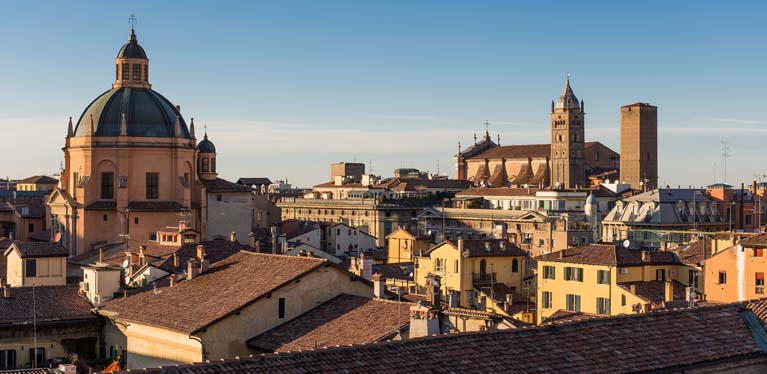 Plan your journey from Bologna Guglielmo Marconi Airport
With its beautiful architecture and delicious aromatic food, Bologna is a city for all the senses. The Piazza Maggiore, Bologna's huge main square, is the city's focal point. From here, everything is easily reached.
The city's art and culture scene is overflowing with things to see and do. The Museum of Modern Art displays some exceptional examples of contemporary artwork, while the Basilica di San Petronio showcases exceptional architecture. This prominent attraction has stood in the central square for over 600 years. See if you can spot the second most famous leaning tower in Italy, the Tower of Asinelli, which is creeping gradually towards its twin.
Home to the oldest university in the world (founded in 1088), museums, galleries and more than 200 libraries, Bologna is a magnet for intellectuals and students from all over the world.
You can't talk about Bologna without mentioning food. Home of spaghetti Bolognese or "tagliatelle al ragù", classic Italian cuisine has been perfected here. Visit one of the city's many exceptional restaurants to sample its delight. And with numerous theatres, cinemas, bars and clubs the city offers the visitor a lively night time scene. In Bologna, the entertainment starts early at 7 pm for the aperitivo, and goes on until the early hours of the morning.
The moment you collect the keys to your Avis hire car, you're free to set off in any direction you choose without a care – just the open road ahead
Beyond Bologna
While Bologna is captivating, there are many other regional attractions that deserve your attention too.
Parco del Delta del Po
Taking the A13 for 90 minutes from Bologna will transport you to Parco del Delta del Po. Covering an area of 52,000 hectares, this is no small reserve. This lush park is a place to connect with nature, much of which is unique to this region. Dense pine forests cover vast stretches of this area along the Adriatic coast. Whether you choose to go on a hike or relax with a picnic, this is a must-visit spot.
Parma
Deliciously fresh prosciutto and flavoursome aged parmesan cheese are the first things that spring to mind when one thinks about Parma, but there's much more to this central, northern Italian destination. Beautiful works of art are on display in several galleries around the city, including the Galleria Nazionale. Head to the city centre to see astounding architecture, like the huge Palazzo della Pilotta and the Duomo. Drive along the A1 from Bologna for just over an hour to get there.
Florence
Florence is the stunning, romantic capital of Tuscany, famous for its leather goods and as a gateway to the region's world-famous vineyards. This UNESCO World Heritage Site boasts ancient monuments, grand palaces and ornate churches, all worth visiting on your road trip. The Duomo is the city's top attraction, offering spectacular 360-degree views from the top of its dome. Florence is just a 90-minute drive down the A1 from Bologna.

Whether you're travelling around Bologna or further afield, an Avis hire car throws you the keys to a world of effortless exploration.
Other car hire locations near Bologna Airport
Road rules in Italy
Which side of the road?
In Italy, please drive on the right side of the road.

Country driving laws
Mobile phones may only be used with a hands-free device
Use the outside lane to overtake on motorways and dual carriageways
There are historical areas in which you cannot drive. Look out for "Zona traffico limitato"
Dipped headlights must be used in poor daylight visibility when driving on motorways, dual carriageways, and rural roads
Do not use the horn in a built up area unless in danger

Speed limits

All speed signs will be in km/h.

For a standard Avis rental vehicle with no trailers:
Urban roads: 50 km/h (31 mph)
Secondary extra-urban roads: 90 km/h (56 mph)
Motorways: 130 km/h (80mph)
Urban highways: 70 km/h (44 mph)
Main extra-urban roads (Expressways): 110 km/h (68 mph)

Unless indicated by road signs.

Be aware of changes to speed limits displayed on road signs due to adverse weather conditions.

Child safety / Seatbelt laws
It is compulsory for the driver and all passengers to wear a seatbelt
Children weighing up to 9kg must be seated in a rear-facing child restraint, in the back of the car only
Children aged under 12 and less than 150cm tall must be seated in an appropriate child restraint for their size

Please note - It is the child's parent / guardian or vehicle renter's responsibility to fit the child seat.

This road rules information is for provided for general guidance only. We endeavour to keep the information up to date and accurate, but any reliance you place on this information is at your own risk.
- Is a hire car needed in Bologna?
Hiring a car from any of the airports near Bologna means as soon as you touch down you can be on your way to Bologna with no need to wait for public transport. It also gives you the flexibility to plan your own itinerary such as driving to a nearby attraction outside the city centre and discovering the surrounding region at your leisure.
- What do I need to hire a car in Bologna?
In order to rent a car in Bologna you need to meet the legal minimum age requirements and have held a valid licence for at least a year.
You also need to be able to provide the relevant documentation when you collect your car: driver's licence, passport or valid photo ID, and credit card in the driver's name.
- What is the age limit for driving in Italy?
The minimum age limit for hiring a car in Italy is 18 (but you must have held a licence for at least a year). However, many rental companies will only hire to over 21s.
- How difficult is driving in Italy?
Italians generally drive fast but not aggressively. On the autostrada, you may feel more comfortable sticking to the right-hand lanes so you can go at your own pace. Streets in smaller towns and villages as well as in rural areas can be very narrow so you may prefer a smaller compact-sized car.