Welcome to Avis
Car rental at Porto Airport
Discover Portugal with car hire in Porto. Find Avis car rental services in Porto Airport, otherwise known as Porto Francisco de Sa Carneiro Airport.

Once you touch down, make your way through Arrivals and you will find the Avis desk with staff waiting to help you.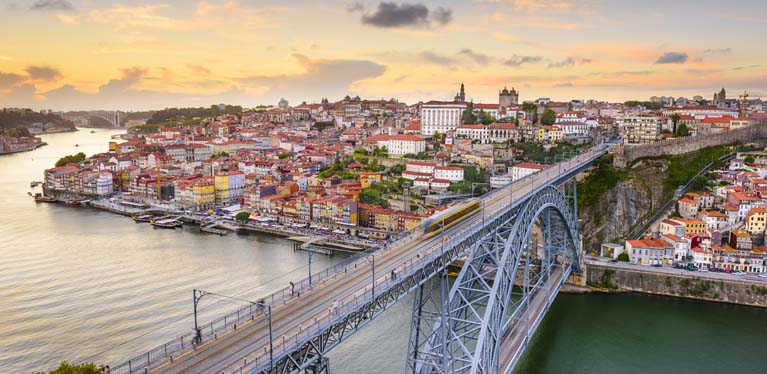 Address & Contact Details
Aeroporto Porto, Francisco Sa Carneiro, Maia, 4470 558. Tel: 351 22 943 6900

Opening Times
| | |
| --- | --- |
| Monday | 08:00 - 23:59 |
| Tuesday | 08:00 - 23:59 |
| Wednesday | 08:00 - 23:59 |
| Thursday | 08:00 - 23:59 |
| | |
| --- | --- |
| Friday | 08:00 - 23:59 |
| Saturday | 08:00 - 23:59 |
| Sunday | 08:00 - 23:59 |
What to do in Porto
Also called Francisco Sá Carneiro Airport, Porto Airport is only 30 minutes' drive from the town of Porto. One of the most beautiful coastal towns in the world, Porto is famed for its beautiful bridges and Baroque architecture.

A world heritage city, Porto is dissected by the River Douro giving it a picturesque look, whichever way you enter the town. The town has ancient buildings, such as Sé Catedral and the Church of São Francisco, as well as modern architectural wonders such as the Casa da Música and the Serralves Museum.

Where to drive in Portugal
Porto to Coimbra
90 minutes from Porto lies one of the oldest university towns in Europe, the riverside town of Coimbra. Head into town and you'll be greeted by two beautiful cathedrals, one built in the Baroque fashion and the other more Roman influenced.

You'll feel the academic influence of this student town any time of year. The streets are filled with elegant cafes, vibrant bars and political graffiti and offer a real taste of Portuguese academia.

Porto to Caminha
Just over an hour's drive (traffic dependent) from Porto is the sleepy riverside town of Caminha, one of the most historically rich, beautiful and scenic towns in Portugal.

There's so much to see and do once you arrive in Caminha, we'd recommend starting with the main square, where you'll get a real taste of the town. Here you'll see the beautiful old town hall and the Misericórdia church, two must-see's when in Caminha.

If you're seeking something a little more active then head to the river estuary, to take part in all sorts of water-based activities including boating and windsurfing.

Porto to the Douro Valley
The Douro Valley is one of the most breath-taking and majestic drives in the whole of Portugal. The valley is famed for its wine production but there's so much more to see on this route. Follow the river and you'll see hundreds of vineyards dotted around, as well as towns and villages offering a true taste of authentic Portuguese culture.

Depending on traffic, getting to the Douro Valley in your Avis hire car is around 2.5 hours, but is well worth your time.