Welcome to Avis
Hire a car in Portugal to discover charming cities and golden beaches
From hot city hatches to roomy people carriers, unlock an Avis rental and explore Portugal.
Find the perfect car for your holiday in Portugal, from where you can discover the city streets of Lisbon, or the meandering routes along the Algarve coast.

We have a range of vehicles to suit your holiday and your budget, along with a wide selection of airport and city locations at all major destinations on the mainland. These include capital city Lisbon, charismatic Porto, and Faro, the gateway to the Algarve and its golden beaches. We also have posts further afield in the Azores and Madeira archipelagos.

Heading out on a one-way journey? Make the most of our flexible return options, which permit you to pick up your vehicle from one of our Portugal car hire offices and drop it off elsewhere at the end of your stay.

Straddling the Iberian Peninsula, this sunny slice of southwest Europe has culture and activities to appeal to all tastes. Whether you're seeking to bathe in its turquoise waters, hike the scenic trails through Peneda-Gerês National Park or glimpse the legacy that the powerful maritime empire carved out here between 1500 and 1800, Portugal's charming laid-back atmosphere guarantees a great trip.

Our team is waiting to check you in with your hire car as soon as you arrive in Portugal so you can get on and enjoy your trip.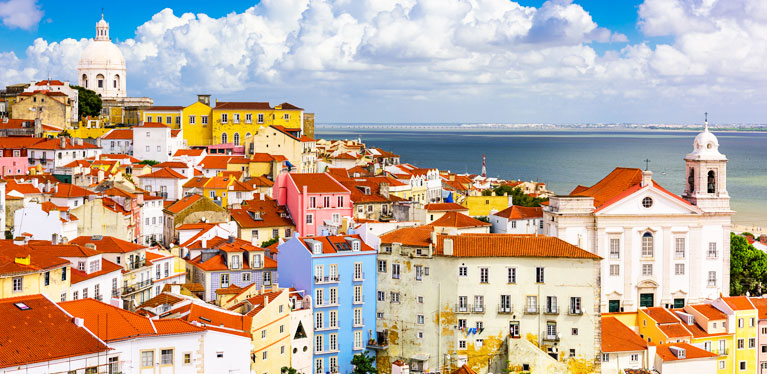 Airport car hire options in Portugal
Popular Avis car hire locations in Portugal
Plan your trip to Portugal by rental car
Lisbon

The lively and hilly capital of Portugal offers a city break with a difference. Lisbon showcases Portugal's past and present. With its grand squares, fado music clubs, and vintage wooden trams, the city is full of charm.

Pack up your Avis hire car and stroll the cobbled lanes and mosaic sidewalks that lead to busy outdoor cafes, exciting artwork and historic landmarks, including São Jorge Castle and the San Domingo church.

Lisbon's colourful neighbourhoods all offer something different. The Bairro Alto provides shops and a lively nightlife. Alfama is the place to go to listen to the best fado performances in Portugal. The lower town of Baixa has plenty of galleries, restaurants and the famous Elevador de Santa Justa – Lisbon's eccentric version of Paris' Eiffel Tower.

If you want to learn more about Portugal's unique culture, there are plenty of niche museums that focus on certain niche subjects, including fado, azulejos (Portuguese tiles), and port wine.

A trip to the waterfront district of Belém provides a lesson in Portugal's history. The Monument to the Discoveries symbolises the country's golden age of exploration. Walk inside, and you'll discover a museum and several exhibition halls. The expansive rooftop terrace offers breathtaking panoramic views over the district and Tagus River. Across the road is the Monastery of Jerónimos, an impressive World Heritage monument and resting place of explorer, Vasco da Gama. Of course, no visit to Belém would be complete without a trip to Antiga Confeitaria de Belem for some pasteis de nata (custard tarts).

Porto

Porto is the capital city of the north and showcases Portugal's old world charm. The UNESCO World Heritage Site is dotted with red-tiled houses situated on the Cais da Ribeira riverfront, mosaic-patterned streets beautiful buildings and churches. Visit São Francisco Church with its fantastic Baroque gold interior, or seek out the striking modern Serralves art museum to see some of the best examples of Portuguese and international contemporary art.

This city is famous for its port wine. One of the most popular leisure activities is a tour around the cellars at the Port-Wine Lodges in Vila Nova de Gaia. Learn about how the area's most famous product is produced.

For a sense of Porto's daily atmosphere, visit the lively market where you can find old fashioned produce and quirky souvenirs. Rua de Santa Catarina is the main shopping street where you can pick up both luxury and high street pieces.

When leaving Porto and heading south in your rental car, you'll drive along the majestic Atlantic coastline. It's one of the best drives in Europe as well as one of the prettiest. Enjoy the open road and find long beaches with soft golden sand that spans the length of the coast. For the adventurous, there's an opportunity for some world class surfing at Peniche where you'll find some of the largest waves in mainland Europe.
Hire a car and drive ... to the beach
The Algarve

Journey to Portugal's south coast and discover sun, sea and remnants of the country's Moorish past. Stretching for some 100 miles, the region has beach resorts along the waterfront and a hire car is the only way to experience it all. Almond orchards and orange groves dot the landscape farther inland. The Algarve's architecture has a Moorish influence which is more predominant in districts such as Olhão and Tavira.

Portugal's south coast is a well-discovered haven for sun seekers. While a significant part of the area is well-developed and packed with tourists, there are some areas that have retained its historical appeal. Lagos, the former capital of the Algarve during the 13th and 14th centuries, was the launching area for some of the first great maritime expeditions.

Before Columbus set the record straight - Cape Sagres - located in the western tip of the Algarve, was once considered the end of the world. Today, merchants sell sea-themed souvenirs, fishermen cast their lines off the cliffs and tourists flock for breathtaking views.

Salema is the Algarve's most preserved area. It has classic beaches, endless sun, and a traditional fishing village. There a number of seaside restaurants serving fresh seafood and plenty of vegetables. After some food the main activity is to bask in the sunshine or rest in the shade.

Portugal is a wonderful place to explore by hire car. Even if you're just heading to the beach on a sun-kissed afternoon, discovering new landmarks in different districts or roaming across the beautiful landscape, Portugal provides a scenic road trip with all the features for a classic European tour.
Book direct for the best Avis car rental experience. Here's what to expect:
Price Promise
You'll always get our best prices when booking on this site, or we'll refund the difference.

Peace of mind vehicle cover
Our Comprehensive Zero-Excess cover product means no need to pay or claim.

VIP Treatment
Go straight to your car at our larger stores. Your keys and paperwork will be waiting.

Free Cancellation
Cancel with no charge up to 24 hours before pick-up.

Speedy collection
Jump the queue with pre-prepared paperwork and your vehicle at the ready.

Member-only benefits
Unlock money-off vouchers, free weekends, upgrades and inclusive additional driver cover at no extra cost.
Driving rules in Portugal
Which side of the road?
In Portugal, please drive on the right side of the road.

Country driving laws
Mobile phones may only be used with a headset or hands-free device
Do not use the horn in a built up area unless in danger
If you're caught committing a driving offence, the police can issue an on-the-spot fine
As you approach toll booths on motorways, don't use the green lanes. These are reserved for drivers using an automatic e-toll payment system. (Please speak to an Avis representative when collecting your rental car if you would like us to register you for this service)

Speed limits
All speed signs will be in km/h.

For a standard Avis rental vehicle with no trailers:
Urban areas: 50 km/h (31 mph)
Rural areas: 90 km/h (55mph)
Motorways: 120 km/h (74 mph)

Unless indicated by road signs.

Child safety / Seatbelt laws
It is compulsory for the driver and all passengers to wear a seatbelt
Children aged under 12 and less than 135cm must be seated in appropriate child restraint for their size
Children aged under 12 are not allowed to sit in the front seat

Please note - It is the child's parent / guardian or vehicle renter's responsibility to fit the child seat.

This road rules information is for provided for general guidance only. We endeavour to keep the information up to date and accurate, but any reliance you place on this information is at your own risk.